Why Did We Create A Bloody Mary Website?
Why Did We Create A Bloody Mary Website?
It was time to get out of the office!
WiscoMaryChristin and WiscoMaryMJ have been working together for 5 years and knew each other before that as early adopters of social media. 
We were working for clients, and decided one day to do something for ourselves. We love the Food and Beverage industry and Bloody Marys. We are marketers and influencers, and on one of our research findings, we discovered that Wisconsin is #1 for the search term "Bloody Mary."

Search and Statistics
In Wisconsin, we love our Bloody Marys, and now we had proof. That, plus everything that goes into this amazing red concoction, can be sourced in our great state. Most times when we spoke with a patron, bartender, or venue about their Bloodies, their eyes lit up and off they went describing their version of the drink. People here are very opinionated and descriptive of how they like their version of this cocktail.
We searched social media and found a crazy amount of selfies with people and their favorite trophy #reddrink.  On Instagram alone, we found 1.5 million posts just for that one search term. In our online search, we found a treasure trove of books and recipes, but no directory.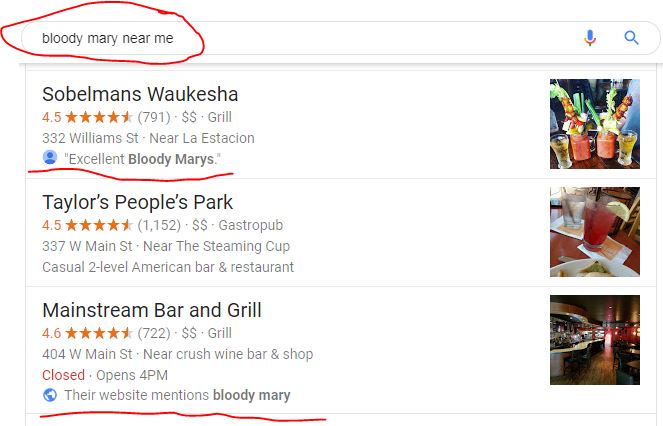 Google is a great place to search; however, it is location-based and will only show local establishments if their website contains the words "Bloody Mary(s) near me" or someone mentions the term in a post. What was missing was a comprehensive guide for Bloody Marys across the state.
By creating an atlas for one of Wisconsin's favorite drinks, we can bring value and joy to visitors, venues, and producers that love Bloody Marys.
Join us on our quest as we travel the state of Wisconsin and follow along with our ongoing #itsabloodyadventure series, where we uncover great places for you to visit that serve a terrific Bloody Mary!
Cheers!
-WiscoMaryChristin and WiscoMaryMJ