Bloody Mary Events Wisconsin
Win WiscoMary Swag!
Each month we will give away something WiscoMary related. Fill out the following form for your chance to win! 
Check out this page for upcoming BloodyMary events, both large and small.
WiscoMaryMJ and WiscoMaryChristin
#itsabloodyadventure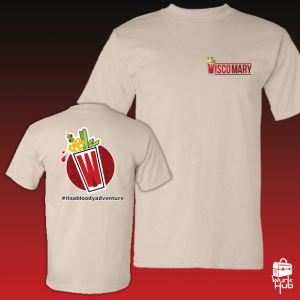 And The Winners Are...
January - Andy C. - Green Bay
February - Lana R. - Chicago
March - Mike G. - Merrill
Bloody Mary Events in Wisconsin are year-round.
Bars, restaurants, breweries, distilleries, and venues all have parties. Check our calendar regularity because we add them as we discover them.
In Wisconsin, we love our #daydrinking, which includes the "any time is a good time" Bloody Mary with a beer chaser of course.
Below, you will find a list of events, festivals, get-togethers, and parties all related to Bloodies and beer. Included are local team game times so you can plan your drinking accordingly 🙂
Milwaukee Bucks, Milwaukee Brewers, Marquette Basketball, Wisconsin Badgers, UWM, Milwaukee Wave, Milwaukee Admirals, and of course the Green Bay Packers!
If you would like a WiscoMary event at your venue, email wiscobloodymary@gmail.com so we can add it to our Bloody Mary calendar.